1.Begin by blowing up the balloons. Only blow them up part way, until they are the size of an egg. Tie them shut.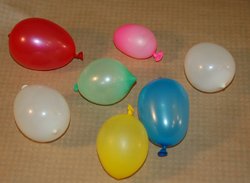 2. Cut ahead of time 1 to 2 foot lengths of embroidery floss. It is much easier to have them cut ahead of time because your hands will be getting very messy.
3. Pour some fabric stiffener into a little cup or dish. Then, soak a length of floss in the cup. Pull out the floss through your fingers, removing the excess fabric stiffener.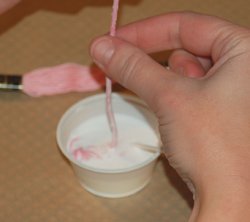 4. Now, wind the floss all around the egg. Continue will the other pieces of floss until the egg is as covered as you want. Different shades look great together, or you can do the egg one solid color. Different shades of one color look good too (like light pink and dark pink).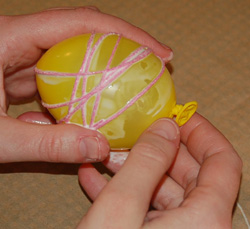 5. Tie a string around the knot of the balloon and hang them to dry overnight.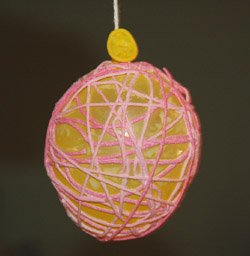 6. The next day, pop the balloon with a pin. It will crinkle up and shrink inside, pulling with it any excess fabric stiffener that was on the sides of the balloon. Then, carefully remove the balloon through one of the openings in the floss.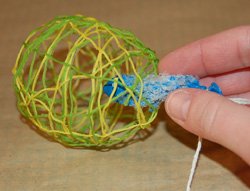 7. Now your egg is done. They can be displayed in a basket, or you can tie a thread to them for hanging.