Pop Tab Craft
Using Pop Tabs to Make a Flower Ring
This pop tab craft is one of many recycled crafts you will find on this website.
What is wonderful about this ring craft is it is made with something you probably have in your home right now, a pop tab! Big jewelry is all the rage now, especially big rings. This flower ring is so easy to put together, and the best part is everyone will love that you made it out of something that you normally may throw away. There can be many different variations of this craft. If you end up making it, please post your photos. You could paint the "petals" or make the inside of the flower look different depending on what you glue on.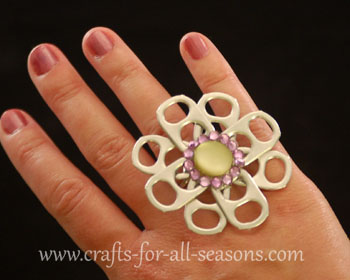 Things Needed:
ring band (can be found in the jewelry sections of craft stores, for making rings. They are adjustable metal bands)
3/4 inch diameter circle cut out of cardstock
8 pop tabs
pretty button or flat-bottomed gem for the center (I used a green iridescent button)
Any extra embellishments you may want. In my project I glued small flat-bottomed stick-on gems around the button. These gems were purchased at Walmart.
A strong glue. I used and recommend EC6000 craft glue.

1. Begin the pop tab craft by gluing four pop tab ends to the 3/4 inch diameter cardstock circle, as shown.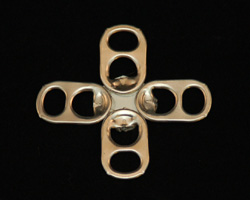 2. Next, glue four more pop tabs on top. These will overlap slightly with the ones beneath it. They will be sitting on top of the bottom layer of tabs.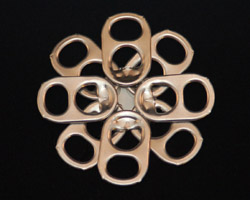 3. Glue a pretty button in the center, or use a flat bottomed gem or stone. Be creative!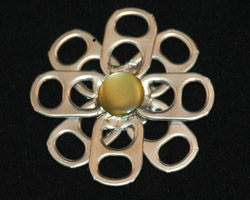 4. Add any extra embellishments you choose. I glued on small flat-bottomed stick-on gems around the button. You could also paint the pop tabs a different color and/or add glitter.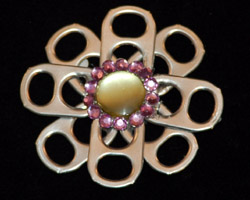 5. Glue the entire flower to the base of the ring and allow it to dry overnight before wearing. Enjoy!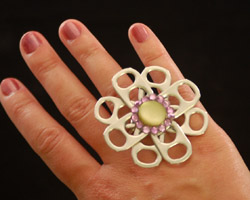 Like This Page?
Click Here to Order my 650 page ebook,
A Year of Creative Crafts
.
Work From Home
- I've turned my passion for crafting into an extra income with Crafts-For-All-Seasons.com - find out how you could do the same.