1. Begin the handprint Valentines by placing some paint in the paper plate and have your cardstock you want to stamp on ready. Then, dip your hands in the paint. See the diagrams below which shows you the hand placement needed to achieve the design. You may need to practice a little, or do a few of them until you find a heart design you are happy with.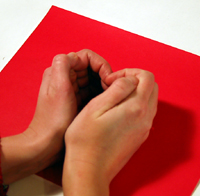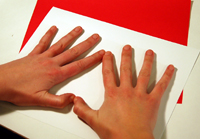 2. Once you have your designs stamped, set them aside to dry and go wash your hands.
3. When the designs are dry, you can add glitter glue to them to accentuate the heart. When the glue is drue, cut out the excess paper around them (called "cropping"). Fancy edged scissors make a nice touch but it is not necessary.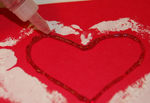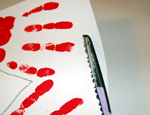 4. Mat your design on a the opposite colored cardstock. If you stamped on white, glue the white design on the red, and vice versa. If you used your whole hands to make the heart, the design is probably quite big and takes up most of the paper. To make this into a big card, add another piece of red cardstock behind it. The next step explains how to attach the paper together. If you used the sides of your hands for the small heart, you will probably have room to mat this design on a rectangular piece of cardstock that can be folded into a card.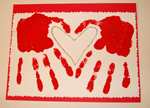 5. To attach the two pieces of paper together for the big card, you will punch two holes through both sheets. Then, you can thread yarn through the two holes to hold the two sheets together. This can be done to the smaller card as well, for a decorative element. To do this, measure along the edge you want to tie with yarn. Mark two dots, each about 1 inch in from the outer edges. Punch out these two holes with a paper punch.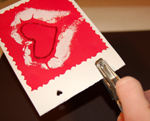 6. Thread some yarn through the holes and tie in a bow. This will allow the big card to flip open.
7. Your handprint Valentines are complete! The inside is open for your thoughts and creativity.