Baby Jar Candle Holder
Baby Jar Crafts
This baby jar candle holder is a cute craft and a fun way to add ambiance to an outdoor barbeque. You can hang these jars on branches of a tree or along your deck. Use a real tealight or try a flameless battery operated votive. These look great clustered together in a group!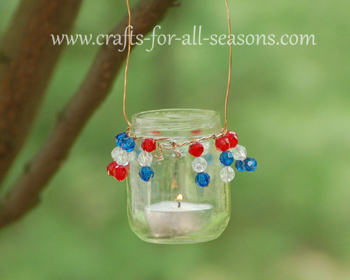 Things Needed:
20 gauge wire in copper and silver
Approximately 12 one inch eye pins (sold in a small package by the jewelry findings)
Beads of choice. I used three beads per eye pin, that were 3/4 cm in diameter.
Jewelry pliers and wire cutters
small candle
1. Begin by removing the labels from the baby jars and cleaning them very well.
2. Next, cut a length of copper wire 8 inches long, and a length of silver wire 8 inches long. Lay them side by side.



3. Thread on 12 eyepins through both pieces of wire, and space them out equally along the two pieces of wire.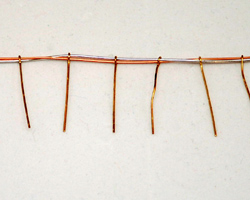 4. Grasp the wire over one eye pin with the jewelry pliers. With your other hand, twist the jewelry wire a few times, between each eyepin. Then, grasp the wire over the next eyepin, and twist the wire again. This adds a nice twisted look to the wire.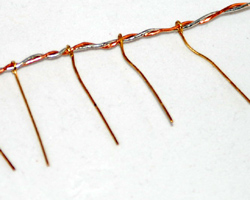 5. Wrap the twisted wire with the eyepins dangling around the mouth of the baby jar. Secure the ends by twisted them around each other. Curl and twist the hanging wire ends to make them look more decorative.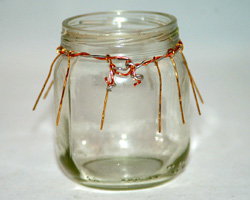 6. Thread on three beads to each eye pin. While holding them in place, using the jewerly pliers to bend up the end of the eye pin wire to hold the beads in place.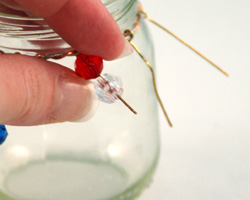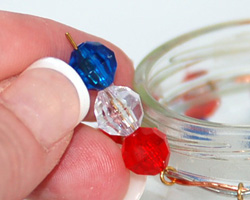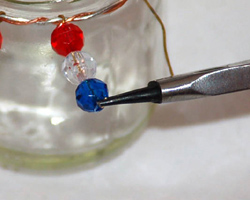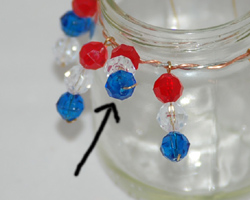 7. Add a length of wire as a loop for hanging. This can be attached by wrapping the ends of the hanging wire to the wire wrapped around the mouth of the baby jar. Enjoy your baby jar candle holder!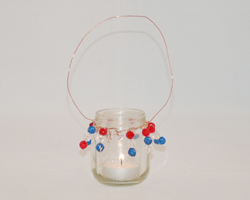 Did You Make This Craft? Do You Have Comments/Questions to Share?
How did you make your craft different? Please tell us! Do you have tips or ideas to make this craft better? Please share your story here! You can even upload a photo of your craft if you like. Feel free to give suggestions, or post any questions you may have related to this craft. I will post my answer for everyone to see.
---
Return from Baby Jar Candle Holder to Summer Crafts
Return to the Crafts For All Seasons Home Page