Tinsel Ornament
Decorating Glass Ball Ornaments
This snowflake ornament is a beautiful decoration for any Christmas tree.
This craft is easy enough for children to do, and makes a great school Christmas craft. The clear ball is filled with imitation snow and then the outside is decorated with snowflake sequins.
Clear ball ornaments now come in plastic, so they are much less delicate. The surface still acts like glass so you can paint them, glue on them, etc. They can be found in craft stores and in the dollar stores around the holidays. These can be decorated in many different ways.
If you would like to see other ways to decorate clear glass ball ornaments, check out these pages too: tinsel ornament, paint swirled ornament, and sparkling gem ornament.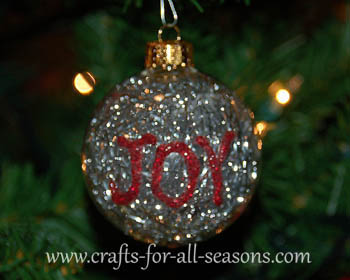 Things Needed:


Clear glass ball ornament
Christmas tree tinsel, in color of your choice
a pencil, cotton swab, or other long stick
Glitter puffy paint (optional)
1. Begin the ornament by removing the top covering to the ornament and set it aside. Next, start pushing tinsel in the small opening. The best way to do this is to use a pencil or cotton swab to help you push it through. I used the end of a paint brush.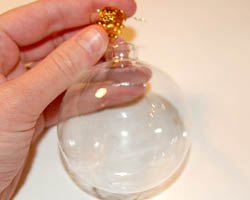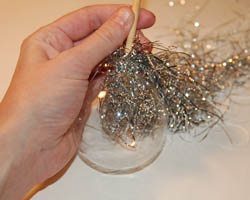 2. Continue adding tinsel until the entire ornament is filled. Then replace the ornament top.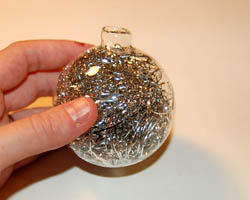 3. The next step is optional, but you can further decorate the glass ball ornament using glitter glue. You can print on a holiday saying, personalize it with a person's name, or simply paint little glitter glue dots over the entire ornament for a pretty effect.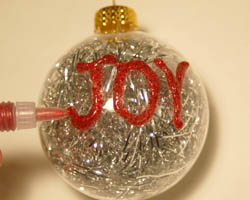 4. Allow the ornament to dry and it is ready to hang on the tree!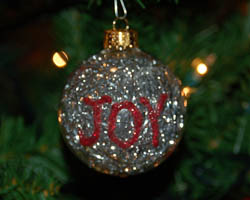 Like This Page?
---
Back to Home › Christmas Crafts › Tinsel Ornament
Click Here to Order my 650 page ebook,
A Year of Creative Crafts
.
Work From Home
- I've turned my passion for crafting into an extra income with Crafts-For-All-Seasons.com - find out how you could do the same.