Types of Scrapbooking Albums

There are many different types of scrapbooking albums to choose from, and it can be very intimidating if you don't know anything about them or what the differences are.
You can now buy scrapbooks in all different sizes. The most common sizes are 12"x12" and 8.5"x11". If you stick with these sizes, you won't have any trouble finding background papers and sheet protectors at the store. Even the major chain discount stores are starting to carry scrapbook supplies.
If you choose another size album, you may have to go to a specialty scrapbook store to find papers to fit. These albums are usually smaller and cute to give away as a special gift or to scrapbook a special occasion.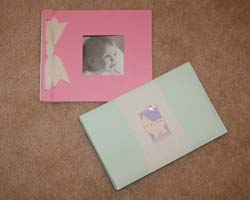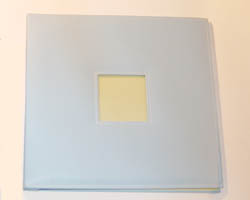 What are the pros and cons between a 12"x12" and 8.5"x11" types of scrapbooking albums? 12"x12" are becoming much more popular these days. I have found that there are more decorative background papers in these sizes than the 8.5"x11". You can also fit more photos on a page. 8.5"x11" albums can be more economical though. The background papers are less expensive because they are smaller. You can get away with buying regular sheet protectors sold in the office supply store instead of special 12"x12" scrapbook sheet protectors. You can
also use a regular three-ring photo album to hold your 8.5"x11" pages, which are inexpensive. They also stand up and store nicely on a bookshelf when they are this size. There are advantages to both types, so ultimately it is a matter of personal preference.

Besides the size, you will also need to consider what type of pages the scrapbook holds. The three most common are to have a three ring binder scrapbook, a post-bound scrapbook with top-loading pages, or a scrapbook bound with non-removable pages, without any sheet protectors.

The most economical type scrapbook is the three ring binder type. Pages can be added at any time easily, and placed within the middle of the album. You can use regular acid-free photo safe sheet protectors as the pages and just slip your completed page into the protective sleeve. The disadvantage is that for a two page layout you will have a gap where the rings are, so the layout will not be seamless.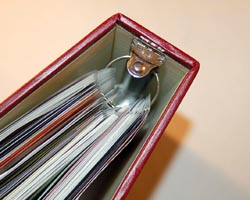 Three Ring Binder Scrapbook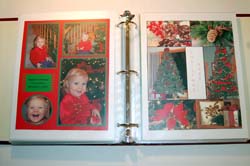 Three ring binders leave a gap between the two page layouts, as shown here.
Post bound scrapbooks are a nice choice. Pages can also be added to the middle of the scrapbook at any time, but it takes a little more effort since the posts need to be unscrewed to add more pages within the middle. The advantage to these books is when the scrapbook is open the two pages lay close to one another to create a near seamless two page layout.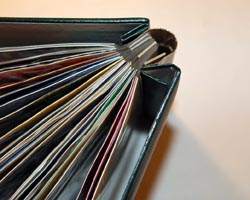 Post Bound Scrapbook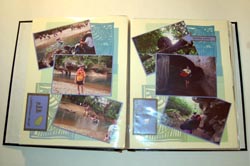 Near seamless layout between the two pages
Scrapbooks already bound with non-removable pages usually do not have sheet protectors. The intention is to glue your photos and embellishments right on to the page. The advantage is you can use bulkier embellishments, and you can use envelopes or tags that pull out with additional journaling or photos. You can really get creative since a sheet protector is not limiting the reader's access to the page. The disadvantage is obvious though... no sheet protectors mean photos can easily be ruined or embellishments can be torn off. Not being able to add pages means you will need to plan well and not make any mistakes.
Continue to Page Three of the Article, "Scrapbooking Supplies" ------------->




Home

›

Scrapbooking for Beginners

› Types of Scrapbooking Albums