Q-tip Skeleton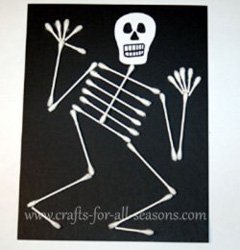 This Q-tip skeleton is a wonderful craft for children to make this Halloween!  The bones are made up of cotton swabs, and are glued on to black paper to form a skeleton.
The best thing is, there are not many supplies needed at all, and most likely they are in your house right now. A child may need some help from an adult to cut the Q-tips in half, as some of them can be a little tough to cut through.
Materials Needed:   
18 Q-tips
Black cardstock or construction paper
White paper
Black marker
Scissors
White glue
Q-tip Skeleton Instructions
1. Begin by gluing 6 whole Q-tips on the black cardstock for the skeleton's ribs.
2. Glue 1 Q-tip perpendicular over the ribs to act as the backbone. Have the Q-tip lie flush with the last rib, but poke up longer than the top rib, to act as the neck bone.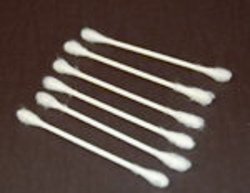 3. Draw a skull on the white paper with a black marker, and cut it out.

4. Glue the skull on the paper above and touching the neck bone.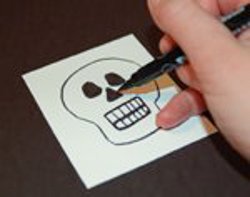 5. Glue 4 whole Q-tips for the arm joints and leg joints, as shown in the finished photo below.
6. Cut 6 whole Q-tips in half, or make them even shorter if you like (like I did). These are smaller bones that can be used as the 10 fingers, and 2 to be the feet. Glue them in place.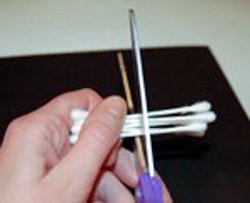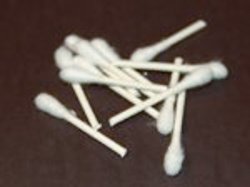 7. Hang on your front door for the Trick-or-Treaters!
Would you consider a small donation? 
You will receive my craft ebook as a thank you!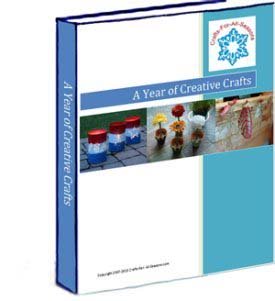 Every little bit helps! If you are enjoying this site, would you consider making a small donation? I use the extra money to help with the cost of craft supplies! With any $5.00 donation or more, you will receive my 650 page ebook full of 178 craft tutorials from this site.  Thank you for your consideration!
Click here to learn more about the book, and to make a donation. 




Home

›

Halloween Crafts

› Q-tip Skeleton



Home

›

Crafts for School Age Kids

› Q-tip Skeleton