Captain America Lego Kid
by Christina Price
(Diamond Bar)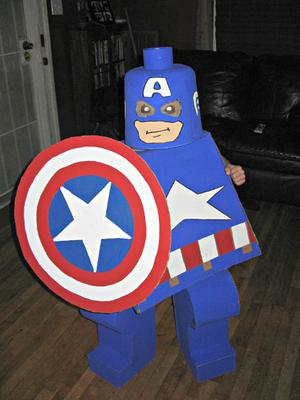 Captain America Lego Kid
Supplies Needed:

Paint (red, white, blue)
cardboard (various shapes, sizes, thickness)
(1) Small bucket (plastic or cardboard)
(1) Tin Can (from canned food item) recycled
(1) plastic hat
Plastic tie straps
Screen material (for eyes)
glue

You will need various cardboard pieces (the thicker sturdier cardboard is best) to measure out the length and size of the body for the Body (front, back, sides (2) & top shoulder area for head) Be sure that are the right measurements for your child so that they are not too long or too short. Once you have cut out the measurements that you want, you will have to connect them together with tie straps. Paint the body according to the patterns of Iron man.

For the legs/feet, you will do the same. Measure out the pieces to fit your child accurately. For this you will use the thinner cardboard pieces because they will have to be more flexible and able to shape/mold. Once you have cut them out and shaped them the way you want, you will glue/staple and tie strap them together. You will need an opening for your child to place his feet into and be a able to walk in. Once you have them put together, you will want to paint them all blue to match the blue on the top half of the costume.

For the head, we used a plastic easter bucket and adhered thin cardboard from cereal boxes around the bucket and painted it. We inserted a plastic hat inside the large bucket so that the child's head would fit properly. Fit according to childs head and tie strap or glue into the bucket. After this is all done, we cut open eye openings so that they child could see through and glued in from the inside some screen material and painted the eye imprint. We also hot glued a tin can that we painted blue to the top of the bucket so that it would look like the lego connector.

They we cut out one large piece of cardboard so that it would be the shape of Captain America's shield. We painted it to match the pattern of his shield and let it dry!

Join in and write your own page! It's easy to do. How? Simply click here to return to Share You Homemade Halloween Costume.
Would you consider a small donation? 
You will receive my craft ebook as a thank you!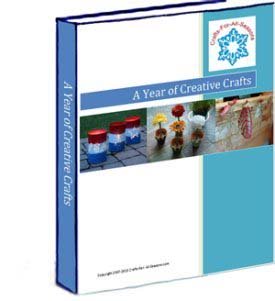 Every little bit helps! If you are enjoying this site, would you consider making a small donation? I use the extra money to help with the cost of craft supplies! With any $5.00 donation or more, you will receive my 650 page ebook full of 178 craft tutorials from this site.  Thank you for your consideration!
Click here to learn more about the book, and to make a donation.