Fruit Ring Necklace

Crafts for Toddlers
This cute fruit ring necklace will keep children amused to for quite awhile. My three year old daughter loves making these.
It helps children stay focused and learn hand/eye coordination, especially for preschoolers.
The necklace is made from yarn and fruit ring cereal pieces. When they wear it, it resembles a candy necklace, and they can bite off the pieces.
These are fun to make at birthday parties. Kids just love making them and wearing them!
Materials Needed:   
Scissors
A small piece of tape
A piece of yarn
Fruit ring cereal, or similar "O" shaped cereal
Instructions for a Fruit Ring Necklace
1. Begin the necklace by cutting off a piece of yarn a little longer the length you want the finished necklace to be. Take a small piece of tape and wrap the one end of the yarn (like the end of a shoe lace), so it will be easy for your child to thread on.

2. Have your child begin threading on the fruit rings! You can set them free to thread them on as they wish, or have them practice some color patterns. This kept my daughter busy for almost an hour!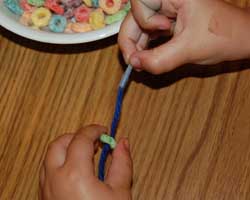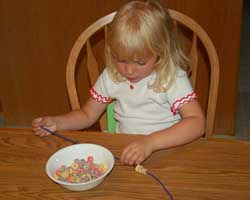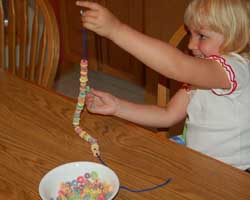 3. When all the threading is complete, tie it around the child's neck. He or she will enjoy eating off all the rings!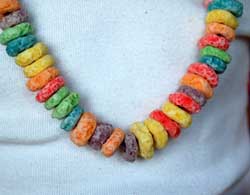 Would you consider a small donation? 
You will receive my craft ebook as a thank you!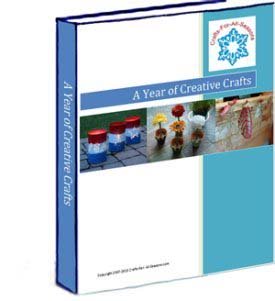 Every little bit helps! If you are enjoying this site, would you consider making a small donation? I use the extra money to help with the cost of craft supplies! With any $5.00 donation or more, you will receive my 650 page ebook full of 178 craft tutorials from this site.  Thank you for your consideration!
Click here to learn more about the book, and to make a donation.