Halloween Invitation Ideas and Free Printables!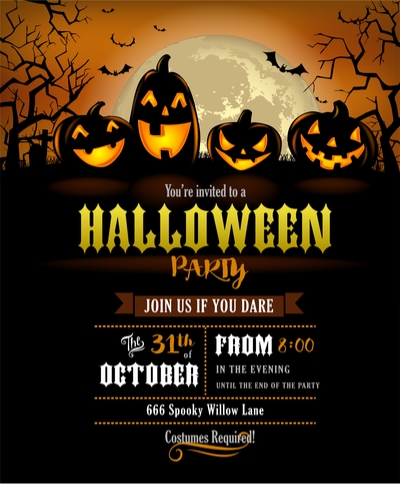 These Halloween invitation ideas will give you inspiration to create your own creative invites, or, you may decide to print out one of my free customizable invitations. After all, if you are planning the perfect party, you will want the perfect invitation to go along with it! 

The invitation is important. It immediately sends guests a message about what to expect. If the invitation is formally worded and has elaborate fonts, they will expect a more formal affair. It is cute and casual, they can expect that at the party!
Halloween invitations should include all the specifics, such as date, time, and where. But be sure to add in other details too. Is this an adult only party? Be sure to state that on the invitation. Are costumes required? Say it! Never mind the groans. After all, if you are going through the trouble of throwing a Halloween party your guests should not grumble about being required to wear a costume! If you are giving away costume prizes be sure to put this on the invitation too so you will encourage some creative costumes!
Depending on your party goers, some parties can go on and on into the night. If you would like an ending time, do not be afraid to put that on the invitation. There is nothing wrong with that, and it gives you some time to relax and clean up at the end of the party. This is important if the party is for children so the parents know the pick up time!

Below are some creative Halloween invitation ideas. Pick one out to try yourself, or print out the custom invitations yourself and fill out the information. To do this, click on the invitation image and a PDF file will open for printing (Adobe Reader is required, but it is free to download here: http://get.adobe.com/reader/)
Halloween Invitation Ideas
Use a photo from last year

Do you throw an annual Halloween party? Try making this year's invite with a photo from last year's party! A group photo with everyone in costume would look great on the cover on the invitation. Guests get a kick out of seeing their photo from last year, and are instantly reminded of what a fun time it was!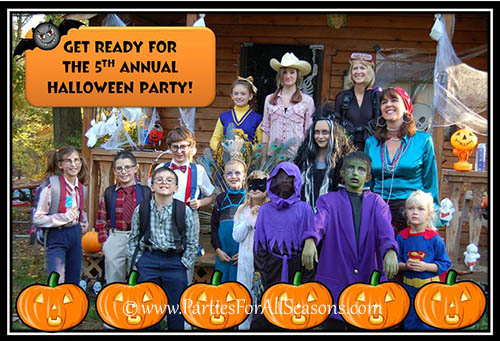 ---
Use a Scene From a Scary Movie as Your Cover Picture

This is a fun and entertaining twist on creating an invitation. Seeing a scene from movie sparks those creepy feelings in your guests, which may bring them right back to the movie! To make an invite like this, search for images from the movie on the Internet, or, play the movie at home on TV and take a photo of the shot you want. Here are some creeped out examples: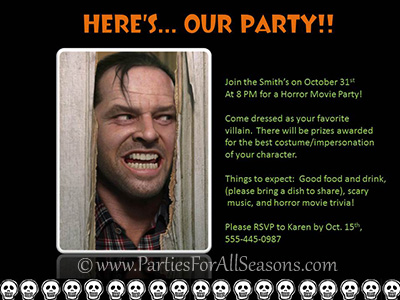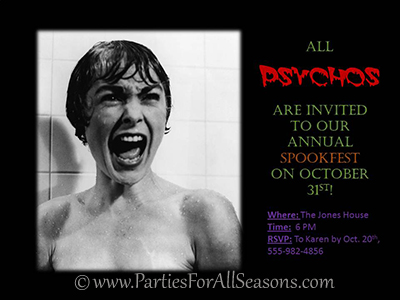 ---
Make your own Invitation with paper and scissors
You don't have to use a computer to design invitations. You can make your own by getting creative with colored card stock. Fold card stock in half, then cut out a Halloween shape, but keep part of the fold intact so the invitation can be opened and closed.
Popular shapes to try are a pumpkin, a candy corn shape, or a cat. You can embellish the front with markers, glitter, or stickers.
---
Customize my Free Halloween Printable Invitation below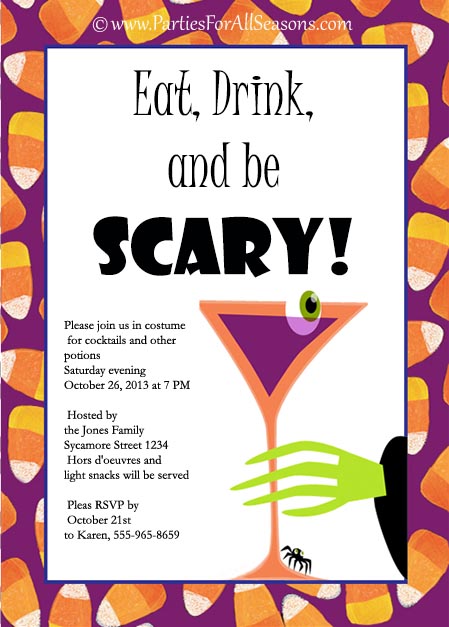 I designed a Halloween invitation that is free for you to use.
This is a 5x7 inch invitation, which is the perfect size to fit into a half card size envelope. There are two invitations per 8.5 x 11 inch page.
When you click here to edit the invitation, it will open an interactive PDF document in a new window. Remember, you will need the free Adobe Reader installed to view this file. Once you have it open, click on the text you would like to edit.
To customize the look of the font even further, simply press Control + E and a tool box will open that will allow you to play with font colors, styles, and sizes.
When you are happy with the invitation, print it on some white card stock. Trim the marked edges off with scissors. You can use it as is, or mat it on a larger piece of contrasting card stock.
I hope you enjoy this freebie, and the other Halloween invitation ideas!
---
Browse for Halloween Invitation Ideas at Etsy and Pinterest

Inspiration comes from many different places, and from seeing the work of others. Sometimes a picture is enough to get your creative mind charged up for unique Halloween invitation ideas.

Etsy, a wonderful handmade marketplace, has many Halloween invitations for sale that are carefully designed by unique artists. There are so many fun ideas on this site. You can buy invitations here, or get some ideas to make your own.

Pinterest, an online picture organizer, is art for the eyes. Get started by typing Halloween invitations in the tool bar, and get ready to see tons of photos for creative inspiration!


Would you consider a small donation? 
You will receive my craft ebook as a thank you!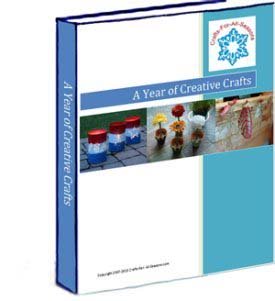 Every little bit helps! If you are enjoying this site, would you consider making a small donation? I use the extra money to help with the cost of craft supplies! With any $5.00 donation or more, you will receive my 650 page ebook full of 178 craft tutorials from this site.  Thank you for your consideration!
Click here to learn more about the book, and to make a donation. 




Home

›

Halloween Crafts

› Halloween Party Invitations