Hexagon Explosion Box - Art Teacher's Perspective
First of all, I LOVE, LOVE, LOVE this project. SO MANY applications! As I worked with it though, I did realize a couple of things I would have preferred to do.

For example, decorating the flaps first. I found it harder to do this once the box was assembled. especially when stamping or drawing on it.

Also, I had to darken the score lines (when I glued it together I turned it "inside out") and make a paper copy to cut out the hexagon to use as a pattern to cut out my image for the bottom inside.

The last tweak to the instructions would be to recommend using an exacto knife to cut from the corners out (only because I kept over cutting into the hexagon ;-( BUT like I said, I REALY DO LOVE this pattern. Thank you SO much for sharing it. I know my classes are going to love it too :-D

Response from Crafts For All Seasons: Thank you for posting such wonderful tips and suggestions! I'm so glad you enjoyed the project.
Would you consider a small donation? 
You will receive my craft ebook as a thank you!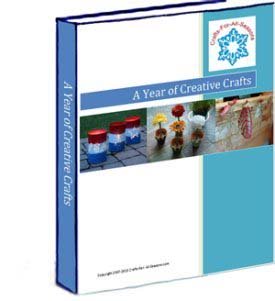 Every little bit helps! If you are enjoying this site, would you consider making a small donation? I use the extra money to help with the cost of craft supplies! With any $5.00 donation or more, you will receive my 650 page ebook full of 178 craft tutorials from this site.  Thank you for your consideration!
Click here to learn more about the book, and to make a donation.