Little Rag Doll
by Erin
(Hobbs NM)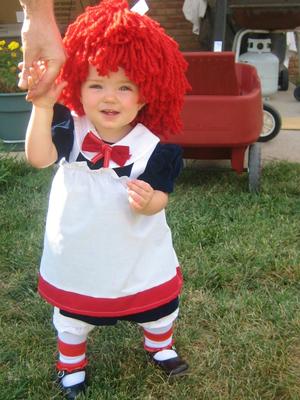 Little Rag Doll
Materials:
Thick red yarn, White fabric, red fabric, red crocheted hat, blue dress, red and white striped tights, black mary-janes, white ribbon, white hair bow.

1. To make the wig, attach bundles of thick red yarn into the holes in a store-bought red baby beanie. You can buy the materials for this at your local craft store. I tied the yarn into bundles of 30 strands, then tied them to the hat. I added yarn until it was very full. I put the hat on my daughter's head and cut it like I was giving her a haircut. Attach the white bow.

2. The apron is simply a white rectangle with a red strip at the bottom. The edges are hemmed. To give it an instant gathered look at the top, I sewed one straight seam using elastic thread in my bobbin. There are 4 straps made from white ribbon. Two go over the shoulders, and two go from the sides and tie in the back. For apron measurements, I just held it up to my child.

3. The bloomers are made from a simple PJ pattern. I shortened the length a bit and added elastic at the bottom!

4. To complete the outfit you will need a blue dress (any blue dress!) red and white striped tights (a little harder to find...) and black mary-janes. If it matters to you, the actual raggedy ann wears a long-sleeved blue dress and black boots. I get extremely lucky and found all of this at my local second-hand children's store. If not, I was able to find several pairs of red and white striped tights and socks online.

5. Put on the blue dress and tights first, then the apron, bloomers, shoes and wig! Then you can squeal in delight because your baby looks SO CUTE!
Join in and write your own page! It's easy to do. How? Simply click here to return to Share You Homemade Halloween Costume.
Would you consider a small donation? 
You will receive my craft ebook as a thank you!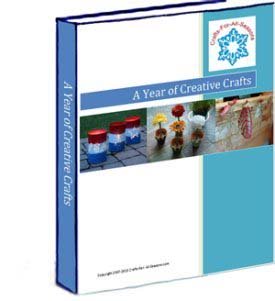 Every little bit helps! If you are enjoying this site, would you consider making a small donation? I use the extra money to help with the cost of craft supplies! With any $5.00 donation or more, you will receive my 650 page ebook full of 178 craft tutorials from this site.  Thank you for your consideration!
Click here to learn more about the book, and to make a donation.