Piggy Pocket
by Jeanine
(South Dakota)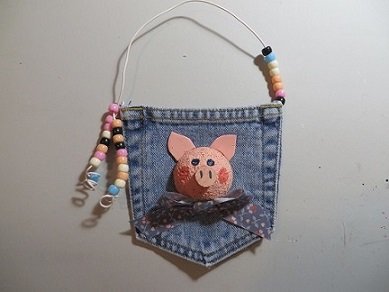 piggy pocket
This piggy pocket is a perfect gift for any pig lover. It will look great hanging from a door knob or in a child's locker!

Materials Needed:

1 back pocket from men's blue


one half 2" white Styrofoam


small piece of art foam for ears


slice from a wood dowel or wine cork (for the nose)


pony beads


craft wire 16


hot glue


18 inches of 1" wide cotton ribbon (country print)


scissors


paint & brushes


Directions for a Piggy Pocket:

The craft wire needs to be sturdy enough to hold the pocket, but soft enough to twist.

1. Cut a back pocket from a pair of men's jeans. Cut close all the way around the pocket EXCEPT across the top of the pocket, leave approximately 3/4" of the blue jean material above the pocket.

2. Lay the pocket face down and place the craft wire along the extra fabric - leaving 4 inches exposed at one end.

3. Use hot glue and fold the fabric over the wire encasing it. Try to make sure the fold is even with or below the top edge of the pocket.

4. Add as many pony beads as you like, bring the long part of the wire over the top to the other side forming an arch to hang from. Twist the wires together, add more pony beads and curl the ends. See photo.

5. Cut the styrofoam ball in half - you only need one half. Paint the ball & nose slice pink and paint the art foam to match. You'll cut ears from the art foam.

6. When the paint is dry, place the ears and overlap a bit with the head ball gluing them into place. Glue the nose slice onto the face, add pink blush fingerprints for cheeks. I use the handle of the brush to dot the eyes and paint thin lines for nostrils.

7. Make a nice bow and glue it into place under the chin.
Would you consider a small donation? 
You will receive my craft ebook as a thank you!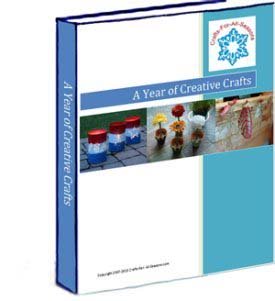 Every little bit helps! If you are enjoying this site, would you consider making a small donation? I use the extra money to help with the cost of craft supplies! With any $5.00 donation or more, you will receive my 650 page ebook full of 178 craft tutorials from this site.  Thank you for your consideration!
Click here to learn more about the book, and to make a donation.