Polymer Clay Shamrock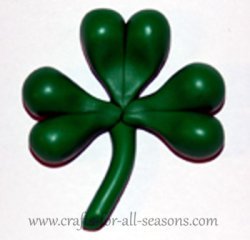 This polymer clay shamrock pin will look great on you, to show off your Irish heritage or to help celebrate St. Pat's!
It is very easy to do! This can also be turned into a magnet if you like.
If you have never worked with polymer clay before, be sure to check the Tips and Techniques: Polymer Clay page before beginning (a new window will open up). It will give you some helpful tips on working with polymer clay.
Materials Needed to Make Polymer Clay Shamrock:
Green polymer clay
Pin backing, or magnet to glue on
Polymer clay glaze or acrylic spray glaze (optional)
Glitter (optional)
Hot Glue or Super Glue
Polymer Clay Shamrock Instructions:

1. Begin the polymer clay shamrock by conditioning the clay until it is nice and soft. If you don't know how to do this, check out my polymer clay article.

2. Make six small balls. Try to make them all the same size. The best way to do this is to make a thick rope, then cut off chunks the same size (use a ruler). Then, roll each chunk into a ball between the palms of your hands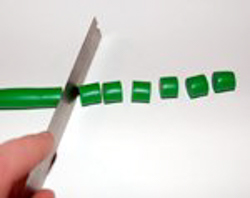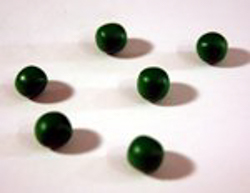 3. Turn each clay ball into a cone shape. This can be done by rolling each ball between your palms and keeping pressure only on one side of the ball, to form a point.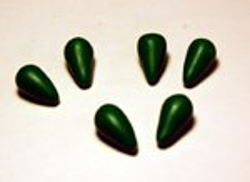 4. Place two cones next to each other to form a heart. Gently pinch the two together so they hold. Then, use your finger to form a little depression near the base of the heart. Continue with the other cones until you have three hearts. These are your shamrock's leaves.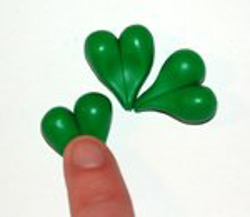 5. Place all three leaves together to form the shamrock. You could also do a four leaf lucky shamrock if you wish. Make a stem by rolling a small clay rope. Attach this rope to the middle of the shamrock (attach it behind). I used a blade to cut the rope stem near the bottom, to give it is clean cut look.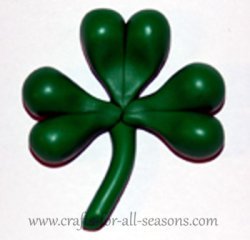 6. Bake the clay shamrock according to the clay's package instructions (usually 265 degrees F for 20-30 minutes). You can bake it on white card stock placed on a cookie sheet. Let the shamrock cool completely before touching it
7. Give the shamrock a coat of glaze if desired. You can also sprinkle some glitter on it if desired. Then, coat with another coat of glaze.
8. Glue on the pin backing or magnet and you are finished!
Would you consider a small donation? 
You will receive my craft ebook as a thank you!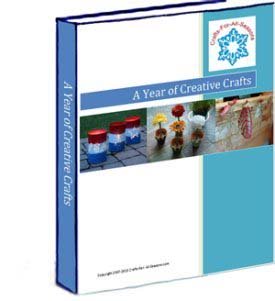 Every little bit helps! If you are enjoying this site, would you consider making a small donation? I use the extra money to help with the cost of craft supplies! With any $5.00 donation or more, you will receive my 650 page ebook full of 178 craft tutorials from this site.  Thank you for your consideration!
Click here to learn more about the book, and to make a donation. 




Home

›

St. Patrick's Day Crafts

› Polymer Clay Shamrock



Home

›

Polymer Clay Crafts

› Polymer Clay Shamrock