Sharpie Monogram Mugs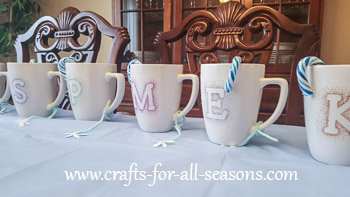 Sharpie monogram mugs - I just discovered a new favorite DIY gift that is so incredibly easy to make, that I want to give these out to all my friends! They are not only easy, but very inexpensive.  I bought the white coffee mugs at the dollar store, for one dollar each. 
Think of all the gift giving occasions - friends' birthdays, teacher appreciation gifts, holiday gifts for co-workers, the list goes on and on! You can further add to the gift by adding some candy and wrapping the whole thing in some tulle netting or a white plastic gift bag tied with ribbon!
I made eight of these for my daughter's birthday party.  We had a hot cocoa bar and the kids loved having their own mug.
You will need Sharpie permanent ink markers.  I already had a multipack of different colors at home, but you will not need many colors.  On each mug shown here I used two colors.  You can use just one color, two colors. or more.  it is completely up to you.
You will also need letter stickers.  You can buy sheets of these in most stores by the scrapbooking or craft aisles.  I own a Cricut die-cut machine, so I cut my own letter stickers using Cricut vinyl. 
These mugs are "cured" in the oven by baking at 300 degrees F for 3o minutes, and then allowing them to cool in the oven.  The mugs are then safe to be washed.  They can go in the dishwasher but to make them last even longer, it is always best to hand wash. 

Materials Needed:   
White coffee mug (try the dollar store)
Sharpie permanent ink markers (I used the thick ones) - two colors per mug
Letter sticker
Oven
Instructions for Sharpie Monogram Mugs
1. Begin by washing and drying the coffee mug well.
2.  Apply the letter sticker to the mug.  You can buy letter stickers at most stores near the scrapbooking and/or craft supplies.  I cut my letters using my Cricut die-cut machine and Cricut sticker vinyl.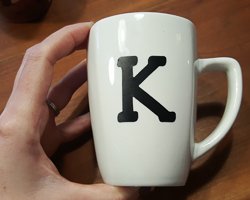 2. Choose one Sharpie marker color and begin making small dots, all around the perimeter of the letter.  You want the dots to be really close together near the letter, and then have the dots get more sparse as you work away from the letter.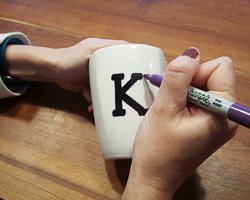 3.  Use another color (if you choose) and repeat the same - make small dots along the edges o the letter and have the dots get more spaced apart as you move away from the letter.
4.  When you are finished, gently peel off the letter sticker.  Place the mugs in a 300 degree F oven for 30 minutes, turn the oven off, and then allow the mugs to cool completely while still in the oven.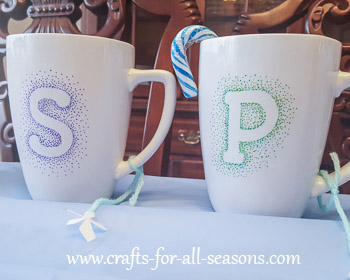 Wash the mugs with warm soapy water before the first use.  They are ready to give away as gifts! 
Would you consider a small donation? 
You will receive my craft ebook as a thank you!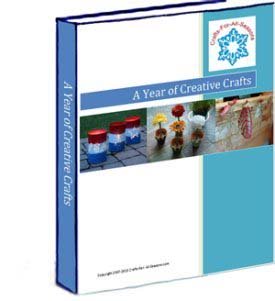 Every little bit helps! If you are enjoying this site, would you consider making a small donation? I use the extra money to help with the cost of craft supplies! With any $5.00 donation or more, you will receive my 650 page ebook full of 178 craft tutorials from this site.  Thank you for your consideration!
Click here to learn more about the book, and to make a donation.