2012 Homemade Halloween Costume Contest Winners
I'm proud to announce the winners of the 2012 Homemade Halloween Costume Contest. The judging was NOT easy! I was so pleased with all the submissions, and I was totally blown away by your creativity! I want to thank each and every one of your for taking the time to share your costume with others! We all appreciate it very, very much!
It is so nice to give a monetary reward out to those that take the time to share your creativity. I will be contacting each of the winners by email and you will be paid via PayPal.
Just to review, this is how the judging was done:
50% Comprehensiveness of Tutorial. The goal of your submission is to become its own complete webpage. Detailed step-by-step instructions would certainly help a lot, and preference will be given to longer written submissions, and those entries which have more than one photo. If you have step by step photos of how the costume was made, that is even better. Each entry must be at least 150 words long.
25% Creativity. If it's a new and original idea you will get extra points from me!
25% Quality of Photos. Sometimes, all it takes for a person to get inspired is a wonderful photo. Share a good photo of your costume for extra points.
I assigned a point value (up to 10) for each of the above categories. The main part of the judging was based on how well and detailed the tutorial was written. Crafts For All Seasons is all about step by step, detailed directions, so this was the main criteria I looked for when judging. The point values for the tutorial section was doubled to account for 50% of the score.
For the photo score, I assigned a point value (up to 10) based on the photos submitted. More points were given to those entries that included the maximum of four photos as opposed to entries that only included one photo.
All the costume entries scored high on creativity. I was blown away!! Such cute ideas! A human stapler?! WOW! A headless dog? A scorpion dog costume? It was simply amazing and such a joy to see these ideas. To learn more about what I was looking for, please visit: The Official Rules
Enough rambling and on to the
2012 Halloween Costume Winners!!
---
First Prize of $100: Alien Xenomorph Costume by Ian Austin.
When I first saw these photos I almost didn't believe this was really made by someone. Really! It is THAT good! I also happen to be a sci-fi fan so I know exactly how creepy this Alien is. Sci-fi fan or not, if you take a look at Ian's detailed tutorial I think you will agree that he is one talented artist. And what surprised me the most was how detailed he wrote his complete tutorial. If you take the time to read it (in 1,485 words), he reveals all the supplies and materials he used and exactly how he did it. He didn't skim over anything, and he explains all the minute details he added to BOTH of these costumes. From explaining how he made the flamethrower for Ripley to the toenails on the Xenomorph, he explains it all. Congratulations to you Ian, and thank you for adding your costume to this collection!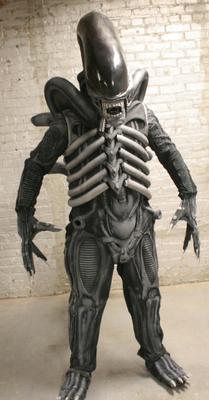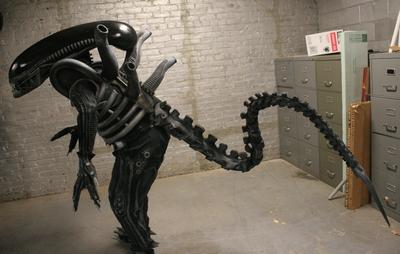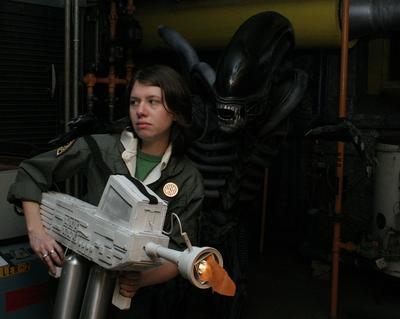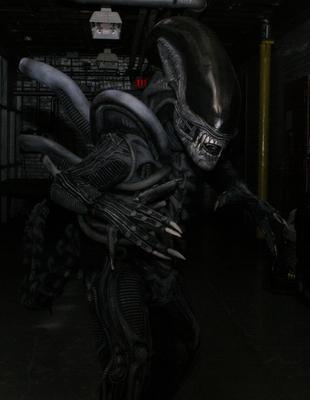 Second Prize of $50: Pirate in His Pirate Ship, by Christina Price.
Christina has added several costumes to the contest and all of them are amazing. My favorite was the Pirate in His Pirate Ship, because of all the detail added to the costume and how well she explained the tutorial. She included four fabulous pictures, and described exactly how she created this costume out of boxes and added all the details. I also love how she used recycled materials for some of the ship parts too, such as a plastic water bottle and a coffee can lid for the ship's wheel. Congratulations Christina, and thank you for sharing all your costume ideas. They are all wonderful!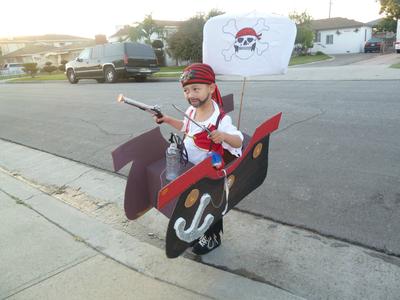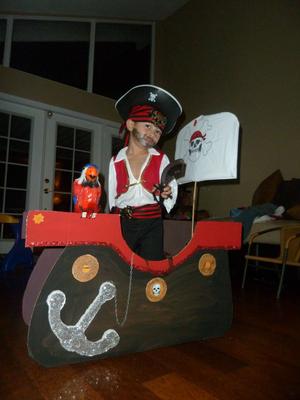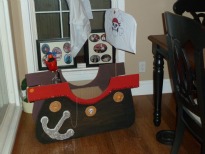 Facebook Prize of $50: Pocahontas Costume by Lori Luna.
Lori submitted two adorable costumes that she sewed herself, a 50's girl and Pocahontas. Lori is very talented and did a great job explaining how she altered the patterns slightly to create these costumes. She also did a great job of rallying up all her friends and family to go to the Crafts For All Seasons Facebook page to "like" her homemade costumes. It was a very close race on the last couple days, but as of midnight on November 5, 2012, Pocahontas won the race with 59 likes! Congratulations to you Lori!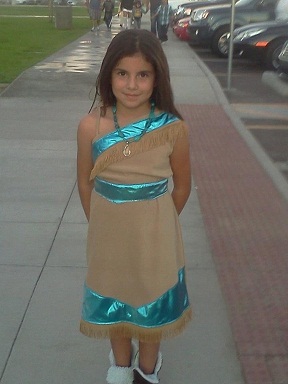 Here are all the other wonderful and creative Halloween Costume Contest Submissions:
Thank you to all who Entered!!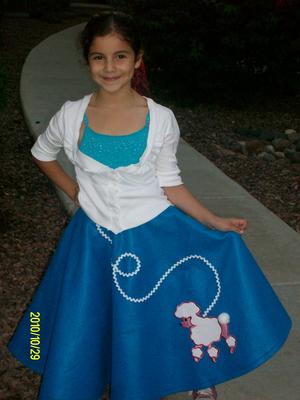 50's Girl Costume - Submitted by Lori Luna: Are you ready to hearken back to the days of the sock hop, diners, and the jukebox? Lori does a great job explaining how she made this 50's inspired poodle skirt costume.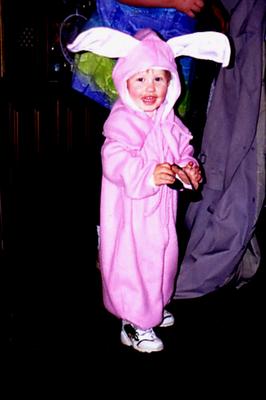 Energizer Baby - Submitted by Christine Krueger: We all know those little ones keep on "going and going..."! Learn how to make this fun and comical costume for your child.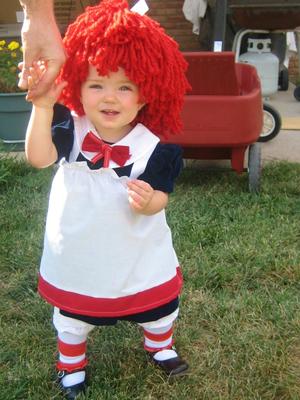 Little Rag Doll - Submitted by Erin: Your little one will look as cute as a doll with this homemade costume!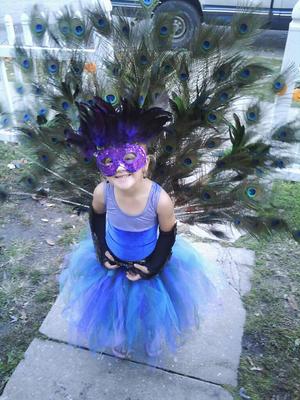 Proud Peacock - Submitted by Tina Browning: Your child will be proud as a peacock wearing this beautiful costume.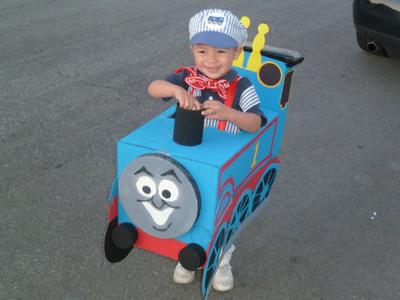 Thomas the Train - Submitted by Christina Price: This box is transformed into Thomas the Train, and your child can be the conductor!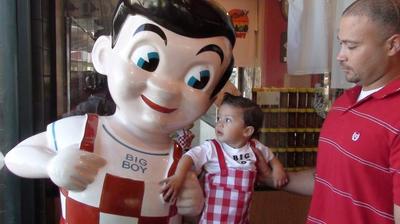 Bob's Big Boy
- Submitted by Christina Price: This cute little one has suspenders and the slicked back hair, just like the Big Boy version.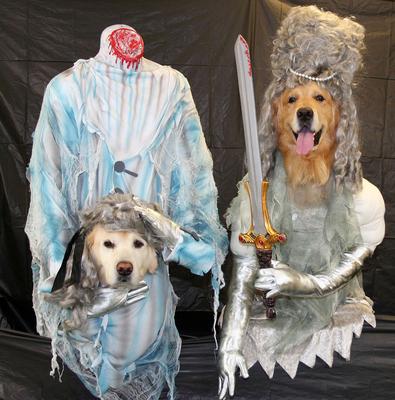 Headless Ghosts of the 1700s:
Submitted by Bonnie and Beth: This amazing dog costume highlights these pooches as scary headless ghosts!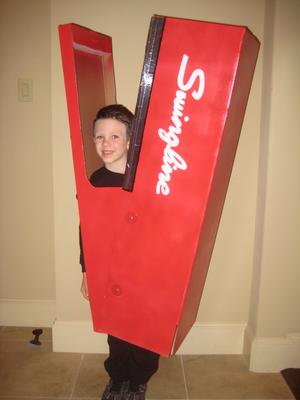 Human Stapler: Submitted by Tatum: This boy has been transformed into a super realistic Swingline stapler.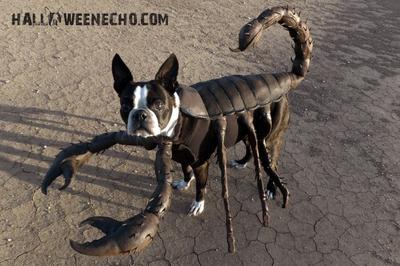 Scorpion Costume
- Submitted by Kristin K.: This little pooch has her claws and tail ready for attack!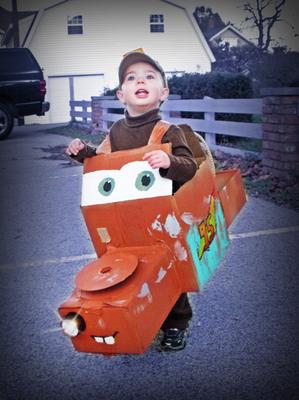 3-D Tow Mater Costume
- Submitted by Kimberly: If your child is a fan of the CARS movies, he or she will love this cute costume!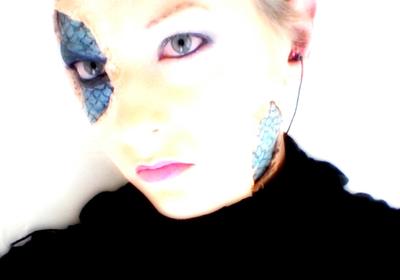 A Secret Within...
- Submitted by Melissa Arnett: This is a really neat tutorial showing how you can create the look of your skin peeling back to reveal a creature inside.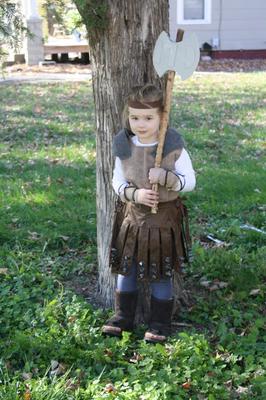 Astrid from How to Train Your Dragon
- Submitted by Katie Schuh: A lot of creativity and talent went into creating this little dragon hunter's costume.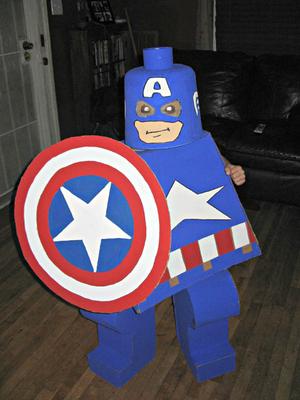 Captain America Lego Kid
- Submitted by Christina Price - This little superhero looks like a real Lego man, but life-size!
---
Click Here to Order my 650 page ebook,
A Year of Creative Crafts
.
Work From Home
- I've turned my passion for crafting into an extra income with Crafts-For-All-Seasons.com - find out how you could do the same.