Human Stapler
by Tatum
(Texas)
Stapler Man!
Our son loves to pretend he is a school teacher, so he is always asking for things his teachers have - markers, hole punchers, erasers - but his favorite gadget is the stapler. When we asked what he wanted to be for Halloween, that was his first response! We found two long cardboard boxes, measured them to his size, cut them up as shown, and fastened them together with nuts and bolts to hold it in place. We spray painted it red and covered the underneath section with aluminum foil. For the finishing touch, we painted the brand name on the side to make it authentic. This is a costume we will all remember for a long time!

Materials:
- 2 cardboard boxes (12X12X40 - available at The Container Store)
- Box cutter
- 4 nuts and bolts; 8 large washers
- Spray paint
- Aluminum foil
- Duct tape
Join in and write your own page! It's easy to do. How? Simply click here to return to Share You Homemade Halloween Costume.
Would you consider a small donation? 
You will receive my craft ebook as a thank you!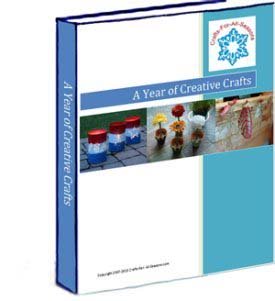 Every little bit helps! If you are enjoying this site, would you consider making a small donation? I use the extra money to help with the cost of craft supplies! With any $5.00 donation or more, you will receive my 650 page ebook full of 178 craft tutorials from this site.  Thank you for your consideration!
Click here to learn more about the book, and to make a donation.