Doll Halloween Costume
by Joe
(Raleigh, NC, United States)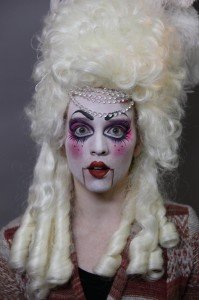 Doll Halloween Costume Finished Product
Doll Halloween Costume
To get started, you will need the following colors of face paint:
- Black
- Violet
- White
- Hot Pink
- Eggplant
- Brown
- Sunset Orange
- Red
You will also need the following tools:
- blush brush
- sponges
- #1 round brush
- #2 round brush
- #6 round brush
- wide chisel brush
1) To start, use a sponge and cover the entire face with White face paint. Use a blush brush to apply Candy Apple color blush to the cheek area. Then add another layer of blush color to the cheek area in order to blend in the rosy cheek effect. From there, use a sponge to apply Hot Pink face paint to cover the eyelids. Then apply some Violet to the eye creases with a #6 round brush.
2) Now you will want to blend the violet paint on the eyes using a wide chisel brush. With this same brush, paint a line under the eyes using the same color and blend. Now create white eyeliner using a #2 round brush and the White face paint. From there, use a #1 round brush to create an outline around the eyes with Black face paint.
3) You will now need to blend the black outline using a chisel brush and Eggplant colored face paint. Draw on eyelashes using the #1 round brush and the Black face paint. Use the same face paint and a #6 round brush to create the eyebrows. Again, using a #6 round brush, paint on the lips of the doll using a Sunset Orange color. You can add further depth to the lips using a #6 round brush and some Red face paint.
4) Now use a #2 round brush and Brown color face paint to draw a line from each side of the lips down to the chin. This will create the hinges that resemble the mouth of a doll. Then use a #1 round brush to trace the hinges with Black paint to add depth.
5) Again using a #1 round brush and some Brown face paint, apply some freckles to the face. Finally, add some White face paint to the lips with a #2 round brush to give it some glare.
For more information on the Doll face paint techniques as well as a helpful video tutorial, visit:
http://www.halloweenmakeup.com/blog/doll-halloween-makeup-video-tutorial/
Would you consider a small donation? 
You will receive my craft ebook as a thank you!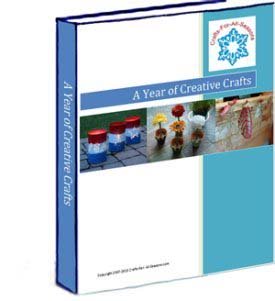 Every little bit helps! If you are enjoying this site, would you consider making a small donation? I use the extra money to help with the cost of craft supplies! With any $5.00 donation or more, you will receive my 650 page ebook full of 178 craft tutorials from this site.  Thank you for your consideration!
Click here to learn more about the book, and to make a donation.